Greg Robinson, MPA, CAP
Director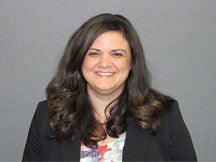 Nellie Nido
Associate Director
(407) 823-5346
nellie.nido@ucf.edu
Acquisitions Supervisor, Payroll and PCard Approver, Policy/Procedure Updates, Leases, Complex Purchases, Spend Analysis, Diversity in Contracts, Assessments.
Brian Sargent, BA Finance, CPPB
Assistant Director
(407) 823-3304
brian.sargent@ucf.edu
Complex Purchases, PeopleSoft Liasion, Payroll and PCard Approver, Gases Biochems/ Hazards, Minor and Complex Construction, Heavy Equipment, MRO, Direct Owner Purchases, Threshold Inspection, Maint. Standard Comments and Categories.
Cali Jones, M.A., PHR
Procurement Services Coordinator
(407) 823-5889
cali.jones@ucf.edu
Software, Consulting /Professional Service, Medical Equipment (> $5K, Assets), Telecommunication Equipment (>$5K, Assets), Scientific Equipment.
Christine Tangel
Senior Procurement Services Agent
(407) 823-4251
christine.tangel@ucf.edu
Furniture, Furnishings Coordinator, Repair Services, Transportation, Gases, Hotel and Food, Office Machines Services/ Supplies, Vehicles, Contracts Routing, Tag and Titles.
Serena Bell
Procurement Services Agent
(407) 823-3886
serena.bell@ucf.edu
Moving Expenses, Promotional Items, Uniforms, Musical Instruments, Printing, Advertisements, Recreation, Mail and Mail Services, Books & Videos, Memberships, Computer Supplies, Medical Supplies,Telecomm (>$5K), Phone and Pagers, Audio Visual/Photo Equipment Supplies.
TBD
Coordinator
Supervise Admin, MBE Reporting/ Inquires, Special Projects, Budget, Property Inventory, Web Administrator, IT Coordinator, Data Security Manager, PCard Reconciler and Approver, Reopens POs, Payroll Processor, HR Liaison.
Amber Kornegay
Office Manager
(407) 823-2661
Receptionist, Solicitation Activities, Vendor Inputs, Requisition Input, Misc. Queries.
Marielle Ngamije
Office Assistant
Various assigned duties.